KISS Premium Edition Pinball
VERY LIMITED AVAILABILITY!!
FREE LOCAL IN HOME SET UP WITHIN A 35 MILE RADIUS!
(Backbox removal additional if required, Contact Us for more info)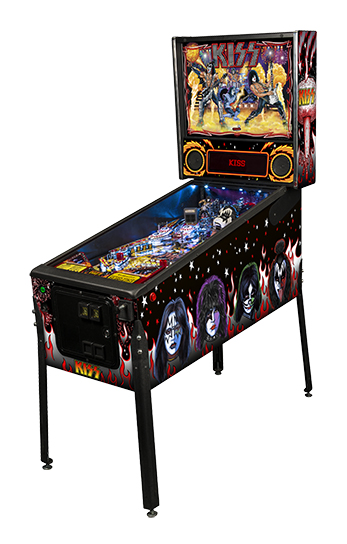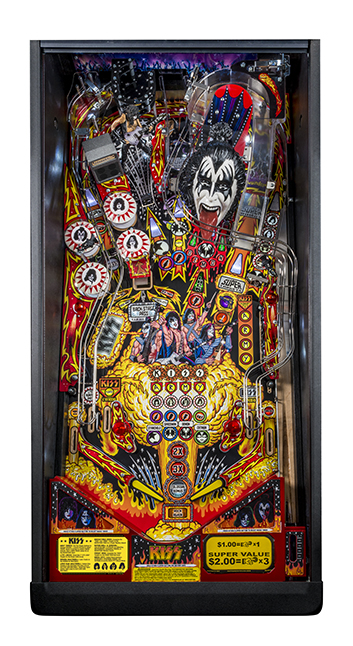 ---
Features of the Game:
Stern Pinball's KISS pinball machines reflect the energy, excitement, and experience of a live KISS concert. Players will experience 10 famous KISS hits in the concert arena playfield and embark on an exhilarating experience ultimately becoming elite members of the KISS Army. Players score points and finish game objectives to fuel the audience's energy and excitement. Higher scores amp the experience–the higher the energy level, the bigger and louder the show–resulting in a KISS concert experience like none other. Players are awarded for completing game goals with a variety of in-game front row seats, backstage VIP access and fun multi-ball modes that thrill players of all skill levels.
The game is built on Stern's new SPIKE pinball platform, which includes an upgraded high-fidelity 3-channel audio system over 3 times more powerful than previous generation pinball audio systems. KISS Pinball includes an amazing array of modern and retro features to appeal to players of all skill levels:
● 10 famous KISS hit songs: Deuce, Hotter Than Hell, Lick It Up, Shout It Out Loud, Detroit Rock City, Calling Dr. Love, Rock & Roll All Night, Love Gun, Love It Loud and Black Diamond

● Custom speech from Paul Stanley and Gene Simmons

● Full-color high-intensity animated LED music lights

● High-fidelity stereo sound effects and music
● Original Gene Simmons/Demon head molded toy

● K-I-S-S spell-out Drop Targets

● Blood-Spitting Demon Bass Solo player experience

● Fire-Breathing Demon "God of Thunder" Multiball Event

● Flying Starchild "Love Gun" Multiball Event

For 40 years KISS has and continues to perform around the world to sellout
crowds of all ages. Among the 100 million records KISS has sold, they have
earned more Gold albums than any other American rock band.

Three decades ago, at the advent of solid state pinball, Bally made a now
famous KISS machine. This was a great game, highly desired today by
collectors and enthusiasts.

John Borg (designer of Metallica, The Walking Dead, X-Men, Tron) designed
our new KISS pinball, bringing the band into the modern pinball age.
Included are 10 KISS performed songs, ball spitting custom molded "Demon"
(Gene Simmons) head, custom molded "Starchild" (Paul Stanley) mini play
area, and custom speech by Gene and Paul. Art is by Kevin O'Connor, who
arted the Bally KISS game. You can see from the attached lengthy Features
Matrix, Photos and Press Release that our KISS pinball is a full featured
game, with plenty of ramps, targets, RGB LED's, scoops, and shots.

Stern will make Pro, Premium and Limited Edition KISS models. Pro
production will start around the middle of May, which is shortly after our
recent move to our new factory. We will begin the 600 game LE production
in late June. We will announce Premium production sometime in the future.
Official Stern accessories available. See pictures here
Contact Us for pricing
LIMITED PROMO! FREE STERN T SHIRT OR BASEBALL HAT AND A LANYARD WITH THE PURCHASE OF ANY STERN PINBALL! MENTION PROMO CODE STERN

VERY LIMITED QUANTITY AVAILABLE!!!

Contact Us for availability or more information

Optional Shaker Motor $125.00

Contact Us for more info on other promos we are currently offering on this game.

To view high res pictures of the game click here or the game image above.

Full Stern Factory Warranty Included.

Local in Home Set Up And Delivery Is Available

WE SHIP ANYWHERE! FILL OUT THIS FORM FOR A QUOTE!

Official Stern Flyer

Kiss Game Features Matrix
Stern HD Anti Reflection Pinball Glass - NOW AVAILABLE!