AC/DC Vault Premium LUCI Edition
IN STOCK SOON!
$500 PRE-ORDER DISCOUNT
FREE SHIPPING OR FREE LOCAL IN HOME SET UP!
(In home set up promo valid within a 35 mile radius, Backbox removal additional if required, Contact Us for more info)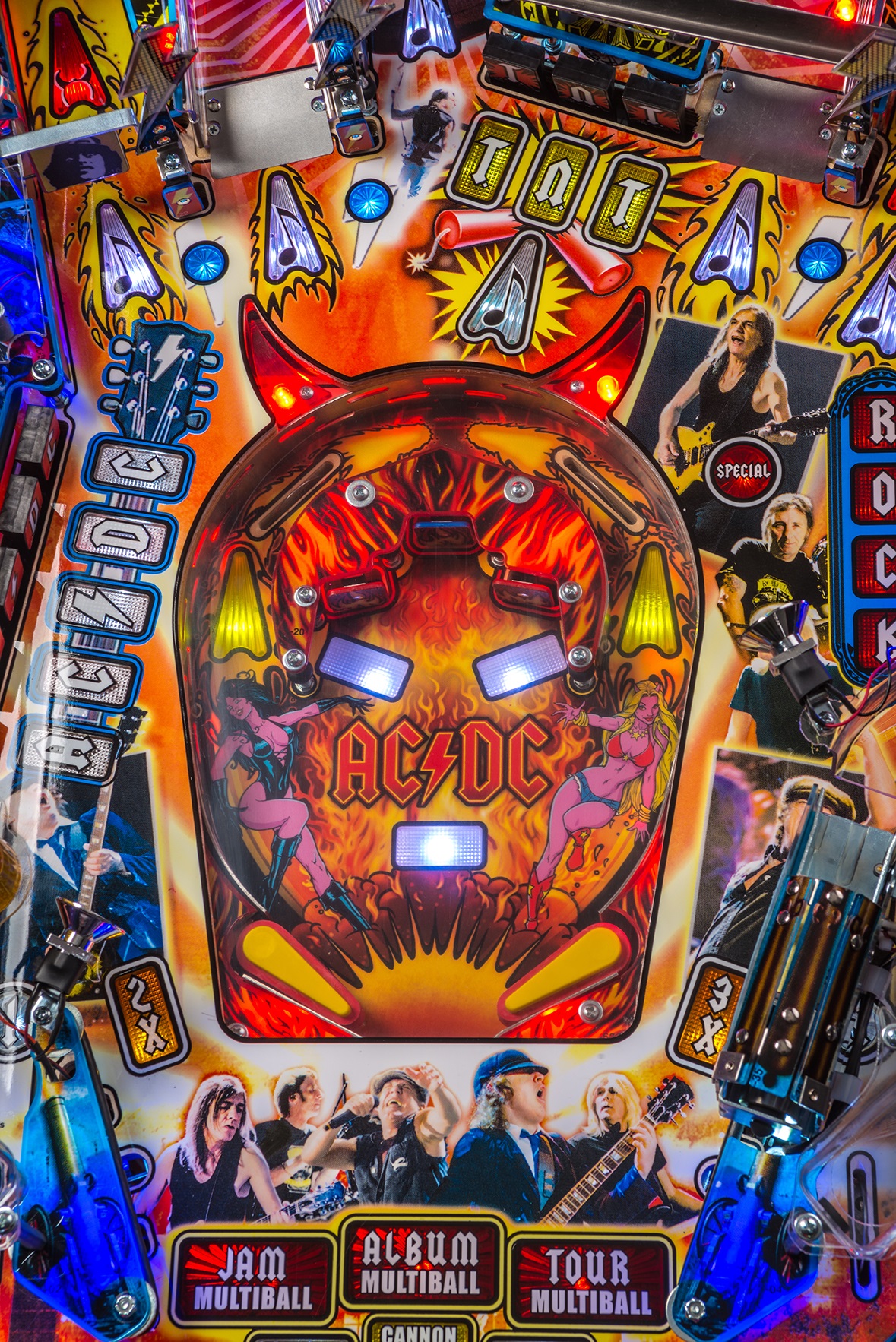 ---
Stern Pinball's design team, led by the King of Pinball, Steve Ritchie, with programming creativity provided by the legendary Lyman Sheats, worked tirelessly to create a pinball experience worthy of the AC/DC and Stern Pinball monikers.
You all know that AC/DC is one of the most popular bands in the history of music. Brothers Angus and Malcolm Young formed the band in Australia in 1973. Since then, AC/DC has toured worldwide virtually non-stop and sold more than 200 million albums, including 70 million albums in our domestic market. Their iconic album, Back in Black, is the second highest selling album in history. The band's recent worldwide Black Ice tour was the highest grossing tour in 2010. The band is currently planning another worldwide tour with the goal of surpassing the phenomenal success of its recent Black Ice tour.
Game Features:
Underworld Lower Mini-Playfield W/2 Flippers and Targets
Hells Bell Swinging Newton Ball Pendulum W/Score Sensor
Hidden Magnet Pendulum Attractor To Start Bell Swinging Remotely
Molded 3D "Rock N Roll" Train With LED Headlight and Horns
5 Bank AC/DC Drop Targets (on left)
3 Bank T.N.T. Drop Targets (in center)
SLAM Action Target Behind Center TNT Drop Target
Crossover Ball Track w/Diverter From Left Ramp To Right Ramp
T.N.T. Detonator Animated W/Solenoid Actuated Handle
Animated Band Member Display
Highway To Hell Animated LED Flames Tunnel
Back In Black Super Bright LED Strobe Lights
Wedge-Based LED GIs
LED Control Lamps including 16 Tri-Color LEDs Under Key Inserts
Classic Lock Down Asssembly and Playfield Slide Supports
Unique Backglass Translite
Red Gloss Power Coated Legs, Hinges, Front Molding, and Side Armour with Flipper Button Protection
LIMITED PROMO! FREE STERN T SHIRT OR BASEBALL HAT AND A LANYARD WITH THE PURCHASE OF ANY STERN PINBALL! MENTION PROMO CODE STERN

MSRP $7,699.00 SALE PRICE $7199.00 LIMITED TIME pre-order special ($500 discount)

Free in home delivery and set-up within 35 miles! EXPIRES SOON!

Includes free shipping in the lower 48 United States

Contact Us for more info on other promos we are currently offering on this game. Mention Promo Code PINBALL! EXPIRES SOON!

Full Stern Factory Warranty Included.

Local in Home Set Up And Delivery Is Available

WE SHIP ANYWHERE! FILL OUT THIS FORM FOR A QUOTE!

Game Feature Matrix

Official Stern Flyer
Stern HD Anti Reflection Pinball Glass - NOW AVAILABLE!