DIALED IN STANDARD EDITION
---
IN STOCK - NOW SHIPPING!
Contact Us for more info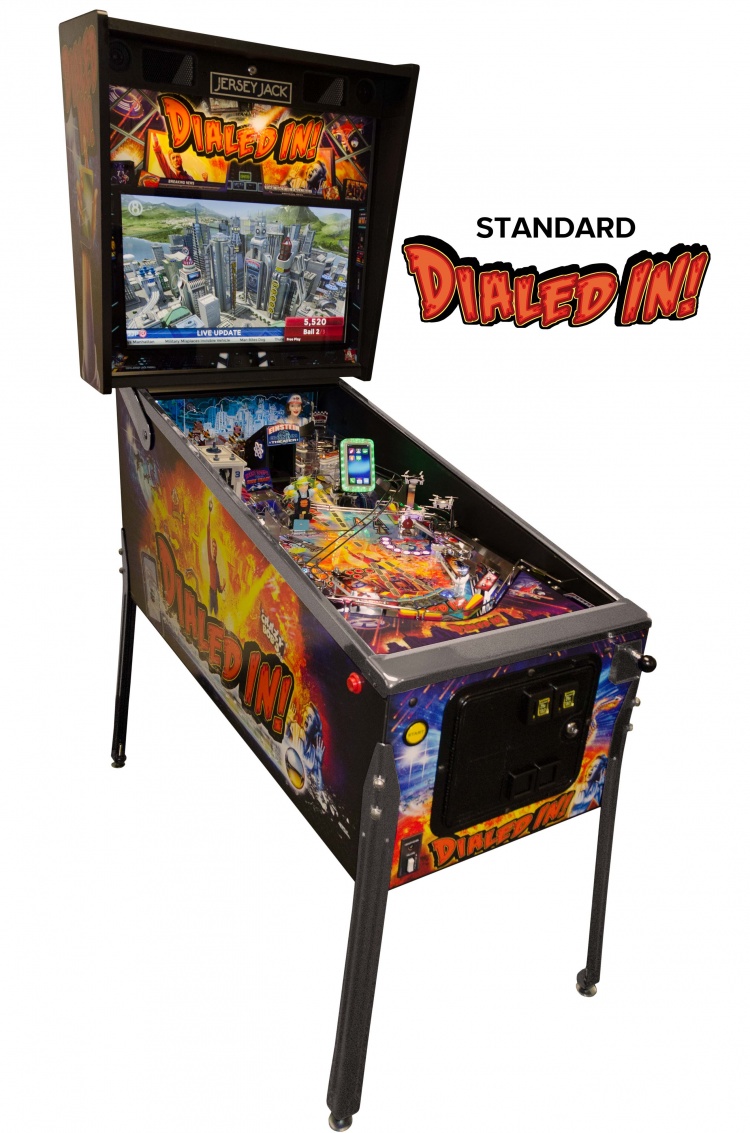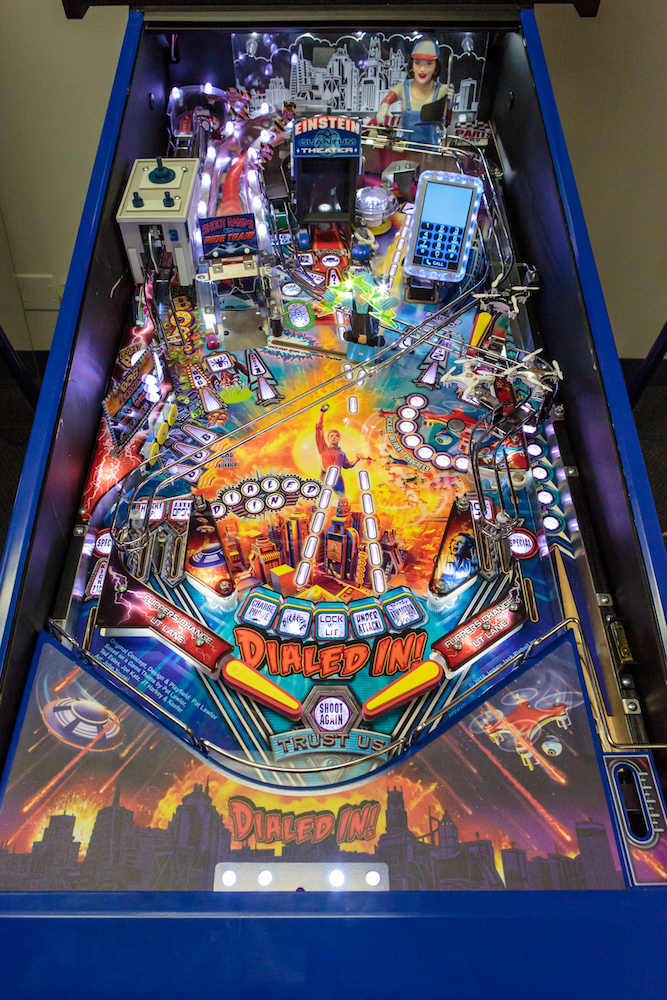 NOTE: STANDARD EDITION DOES NOT COME WITH THE BLUE TRIM. LE PICTURE USED ABOVE RIGHT. LIMITED AND STANDARD PLAYFIELDS ARE IDENTICAL.
---
Features of the Game:
Original concept game design by Pat Lawlor
Original art design by John Youssi
Special plaque signed by Pat Lawlor, John Youssi, and Jersey Jack
The first-ever pinball machine to feature Bluetooth connectivity, a camera, and additional player capabilities through a smart phone
Special attract mode animation for Limited Edition
3-D interactive projected image
Illuminated cityscape back panel
Innovative swiveling LCD mount
3 flying drones
Animated robot
Moving animated target
Upper playfield ball play
Hidden trap door
Low-profile bottom arch with removable instruction card reader brackets
Multiple shot subway system
Plunger skill shot feature
Multiple ball game play
3 ball lock multi-ball play
5 magnet assemblies that enhance ball movement and game play
Owner adjustable outlane posts
Numbered (pick your favorite number, subject to availability)
Premium Clear Coated Playfield
Shaker Motor
Standard size cabinet.
27" HD LCD featuring full color animation and visual integration of game features
RGB-LED Playfield lightning
5 speaker 2.1 stereo surround sound
Stereo headphone jack
Stainless Steel Armor
More Details to follow
**Features are Subject to Change**
Bally / Williams Parts
Premium Clear Coated Playfield
One Year Warranty
Dimensions:
Fully assembled (With legs on & Backbox up)
Height = 74.50"
Width = 28.75"
Depth = 55.50"
Weight - 350 pounds

Dialed In Standard Edition Flyer

Dialed In Game Comparison Chart

MSRP $7,999.00 (includes shaker motor)

$250.00 deposit (Sooner the deposit, sooner the game will arrive)

Add on INVISIGLASS™ (+$250.00)

Contact Us for more info on other promos we are currently offering on this game.

Full JJP Factory Warranty Included.

Local in Home Set Up And Delivery Is Available

WE SHIP ANYWHERE! FILL OUT THIS FORM FOR A QUOTE!