GUARDIANS OF THE GALAXY
LIMITED EDITION (In Production)
VERY LIMITED AVAILABILITY - ONLY 600 BEING MADE!
Click on images below for high res pictures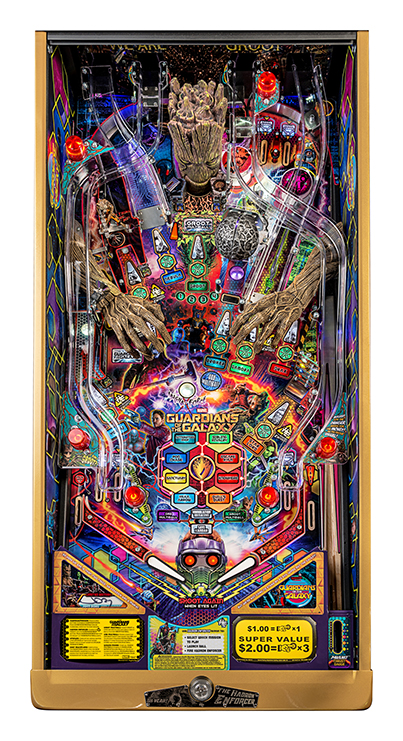 ---
Stern Pinball, Inc., the world's oldest and largest producer of arcade-quality pinball machines, proudly announced today the availability of a new line of pinball machines celebrating the popular movie franchise, Guardians of the Galaxy. Guardians of the Galaxy pinball machines will be available in Pro, Premium, and Limited Edition models. The Guardians of the Galaxy are a fictional intergalactic superhero team based on the successful American comic book series published by Marvel Comics.
The game will immerse players in a dynamic, challenging, and galactic pinball environment where Star-Lord, Rocket, Gamora, Drax the Destroyer, and Groot battle Ronan to stop him from using the Infinity Stone to destroy the galaxy.
"Guardians of the Galaxy is one of Marvel's most exciting and successful franchises worldwide. We feel that this theme connects perfectly with pinball in creating a high energy pinball experience," said Gary Stern, Chairman and CEO of Stern Pinball, Inc. "Stern Pinball and Marvel Studios share a love for these memorable characters and have a long, successful history of collaboration."
Stern's Guardians of the Galaxy Pro, Premium, and Limited Edition models are packed with features that provide an irresistible gameplay experience. Each game features a sculpted and interactive ball-eating Groot. In addition, a custom sculpted Rocket figure will keep players on their toes as it blasts the ball back at rocket speed. Color-changing inserts highlight the mysterious and interactive Orb, which opens to reveal the powerful Infinity Stone. The Limited Edition and Premium models also feature extra magnets, custom artwork, RGB lighting, and sculpted Groot arms that sprawl across the playfield.
In addition to the immersive theme and exciting gameplay experience, Stern Pinball's SPIKE-2 electronic platform enables high-definition graphics and innovative animations on the LCD screen. The state-of-the-art electronic system also powers a high-fidelity 3-channel audio system that is three times more powerful than audio systems of previous generations.
All models feature stunning and distinctive hand drawn art. Guardians of the Galaxy entertains with an amazing array of modern and classic features, making it suitable for all skill levels.

Official Stern Guardians Of The Galaxy Accessories now available!

See PDF File here
What are art blades you ask? They are the art on the inside of the game on the left and right side of the cabinet that is normally black wood. They can be seen here and here on our Ghostbusters game. Actual pictures of the Guardians game with them on coming soon. These make a game REALLY look complete and hands down our best selling accessory. Ask about free accessory installation for our local customers. Out of state? We can un-box the game and install any accessory and as long as were in there we will fully test the game and re-box the game in the original factory carton. All this for only $75.00!
Contact Us for special pricing on Accessories

MSRP $8,999.00 SALE PRICE $8,699.00. LIMITED TIME pre-order special ($300 discount)

Shaker Motor & Art Blades INCLUDED!!!

Free in home delivery and set-up within 35 miles! (Limited Time Offer)

Includes free shipping in the lower 48 United States

Contact Us for more info on other promos we are currently offering on this game.

Full Stern Factory Warranty Included.

Local in Home Set Up And Delivery Is Available

Official Stern Flyer

Guardian Of The Galaxy Game Features Matrix
Stern HD Anti Reflection Pinball Glass - NOW AVAILABLE!