Star Trek Starfleet Pro Edition
FINAL CALL, OUT OF PRODUCTION FOR GOOD.
VERY LIMITED AVAILABILITY!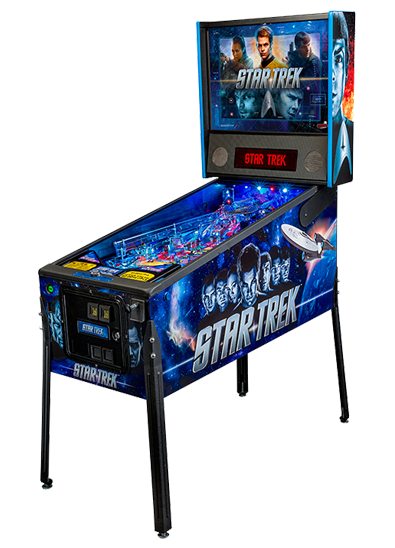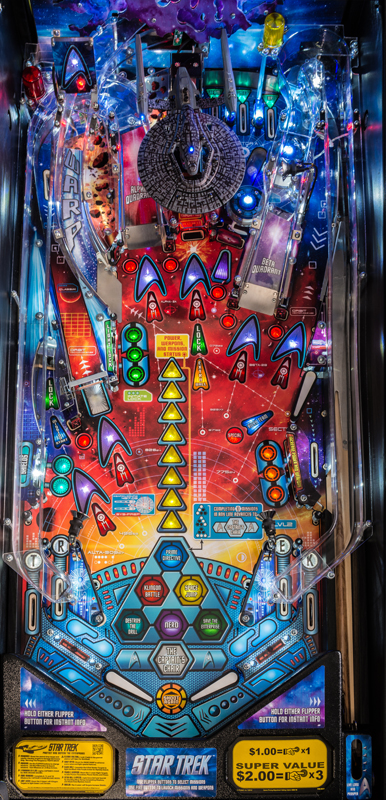 ---
Features of the Game:
Inspired by the Star Trek and Star Trek Into Darkness films, the newest Stern machine puts players in Captain James Kirk's chair of the U.S.S. Enterprise, embarking on a journey to protect and defend the planets of the Federation.
Stern's Star Trek pinball machine features all the bells and whistles a Star Trek fan would desire. With adrenalin-filled battles, high-definition artwork, cosmic LED lighting and classic musical scores, the Star Trek game will evoke the sensation of flying through space at Warp Speed to rescue Spock and defeat the U.S.S. Vengeance. The newest game from Stern includes an animated battleship, three lightning fast ramps, three flippers, resettable memory drop targets and much more.
Star Trek is Stern's first all-LED Pro Model. The playfield features seven multicolored LED paths that lead gamers on easy-to-understand color-coded routes. There are six missions for casual players matched by 18 complex treks to immerse enthusiast players deeper in the game. As players attack an oncoming threat with three action-centered flippers, the all-LED playfield will captivate onlookers and enhance the player experience with features like phaser flashes and photon torpedoes.
Players will instinctively know exactly what to do when they approach Star Trek pinball – destroy the U.S.S. Vengeance, a key action-packed feature on the playing field. From the very start, players will have the chance to unlock special opportunities, collect tantalizing bonus features and win a series of accolades called The Captain's Chair. Star Trek aficionados can expect the classic battle between the heroic Enterprise team and the villainous Khan as well as run-ins with Nero, Klingons and the Narada.
LIMITED PROMO! FREE STERN T SHIRT OR BASEBALL HAT AND A LANYARD WITH THE PURCHASE OF ANY STERN PINBALL! MENTION PROMO CODE STERN

LAST ONE IN STOCK!

New in the box $5995.00 (only 1 left new in the box)

Optional Shaker Motor $124.95

VERY LIMITED AVAILABILITY WE ARE CLOSE TO SOLD OUT!

Contact Us for more info on other promos we are currently offering on this game.

To view high res pictures of the game click here or the game image above.

Full Stern Factory Warranty Included.

Local in Home Set Up And Delivery Is Available

WE SHIP ANYWHERE! FILL OUT THIS FORM FOR A QUOTE!

Official Stern Flyer

Game Features Matrix
Stern HD Anti Reflection Pinball Glass - NOW AVAILABLE!