The Hobbit Limited Edition
IN STOCK - FREE FULLY INSURED SHIPPING!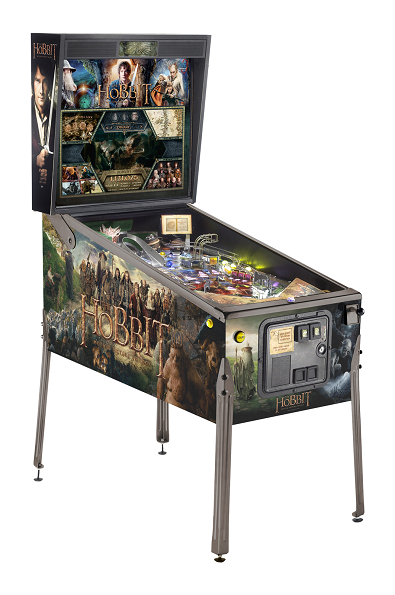 ---
Features of the Game:
27" HD LCD Display featuring full color custom animation, movie clips, scoring, attract mode, back glass artwork and more..
Seaside bronze powder coated body armor
RGB-LED Playfield Lighting
Super-White LED GI Lighting
Full color digitally printed cabinet and back box artwork
7 Speaker 2.1 Digital Audio system.
JJP coin door with added external headphone jack and volume control
Each game will have a number affixed to the game apron to be seen under the playfield glass…
Premium Clear Coated Playfield
Invisiglass
Shaker Motor
One Year Limited Warranty
Wide Body
More Details to follow
*FEATURES ARE SUBJECT TO CHANGE*
Dimensions:
Fully assembled (With legs installed & Backbox up)
Height = 74.50"
Width = 28.75"
Depth = 55.50"
Weight - 350 pounds

MSRP $8,495.00 (includes shaker motor and invisaglass)

Add $550 for Rad Cals & Playfield Protector. Contact Us for details on these items.

Free Curbside Shipping WITH full coverage 3rd party insurance in the lower 48 United States

Not including any special promos

Contact Us for more info on other promos we are currently offering on this game.

Full JJP Factory Warranty Included.

Local in Home Set Up And Delivery Is Available

WE SHIP ANYWHERE! FILL OUT THIS FORM FOR A QUOTE!

Official Hobbit Flyer

Contact Us for more info