WWE Wrestlemania Limited Edition
(ONLY 400 PRODUCED)
FREE SHIPPING & SHAKER MOTOR VERY LIMITED AVAILABILITY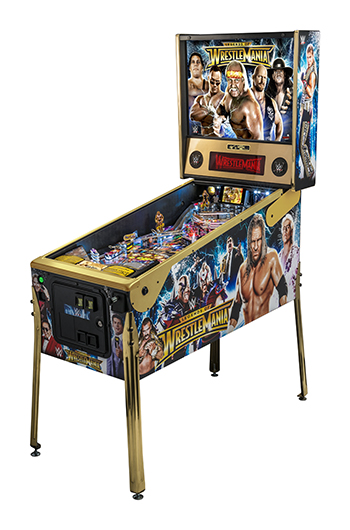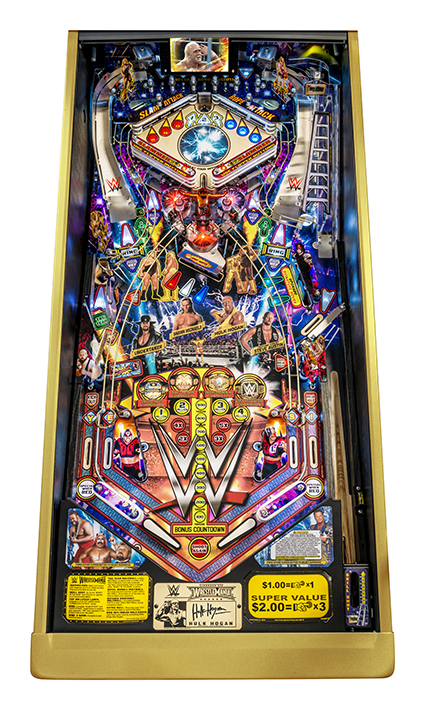 ---
Features of the Game:
WWE Wrestlemania calls players into the ring as WWE superstars embarking on a quest to become the WWE worldwide heavyweight champion. Players train their wrestlers and then compete in a series of matches leading them on the road to Wrestlemania.
The WWE Limited Edition machine feature an innovative upper pinball playfield wrestling ring. With the flipper buttons, players control two "Slammer" slingshot-style kickers in the ropes of the ring. Completing the three drop target bank starts a wrestling match. Players rack up points and pin opponents in the ring by shooting into a kick out hole. Keeping the ball in the ring and hitting as many targets as possible will advance players through the match. Multiple ramps guide the ball throughout gameplay, while brilliant lightshows highlight the all LED playfield. Ten licensed songs include intro music for wrestlers that players choose. WWE announcers Jerry "The King" Lawlor and Michael Cole add play by play excitement.

Wrestling legend Hulk Hogan will individually autograph each of the numbered WWE Legends of Wrestlemania Limited Edition (LE) machines on a bottom arch mounted gold plaque. With only 400 autographs available, this collectible must be limited to that number of games. The LE game art features classic WWE stars, of course including Hulk Hogan. Actual WWE wrestling action is projected on the LE's replica "Titantron" playfield level 5.7 inch LCD directly above the ring. The ball is always wild when it comes into contact with the LE's exclusive "Chaos" spinning DISC while a third "Wham! Arm" flipper allows players to knock the ball off a wire ramp.
"The WWE franchise features unique characters and fantastic action sequences that are captured in these pinball machines. WWE Wrestlemania pinball games will appeal to a very large and diverse group of both WWE and pinball fans," said Gary Stern, Chairman and CEO of Stern Pinball. "This game is unique with an innovative wrestling ring and other features that will captivate pinball players of all skill levels."

WWE Wrestlemania is the first pinball machine to feature Stern's recently announced SPIKE™ electronics hardware system. The new technology reduces product complexity and simplifies manufacturing, resulting in more reliable and easier-to-service games. SPIKE™ is both modular and scalable, accommodating and supporting future designs. Players will quickly appreciate higher quality sound, enhanced illumination effects and a more engaging overall game experience.
Official Stern Accessories available.
Shooter Knob $69.99
Inside Cabinet Art Blades $79.99

VERY LIMITED QUANTITY AVAILABLE!!!

Contact Us for availability or more information

Contact Us for more info on other promos we are currently offering on this game.

Full Stern Factory Warranty Included.

Local in Home Set Up And Delivery Is Available

WE SHIP ANYWHERE! FILL OUT THIS FORM FOR A QUOTE!

Official Stern Flyer

WWE Game Features Matrix
Stern HD Anti Reflection Pinball Glass - NOW AVAILABLE!