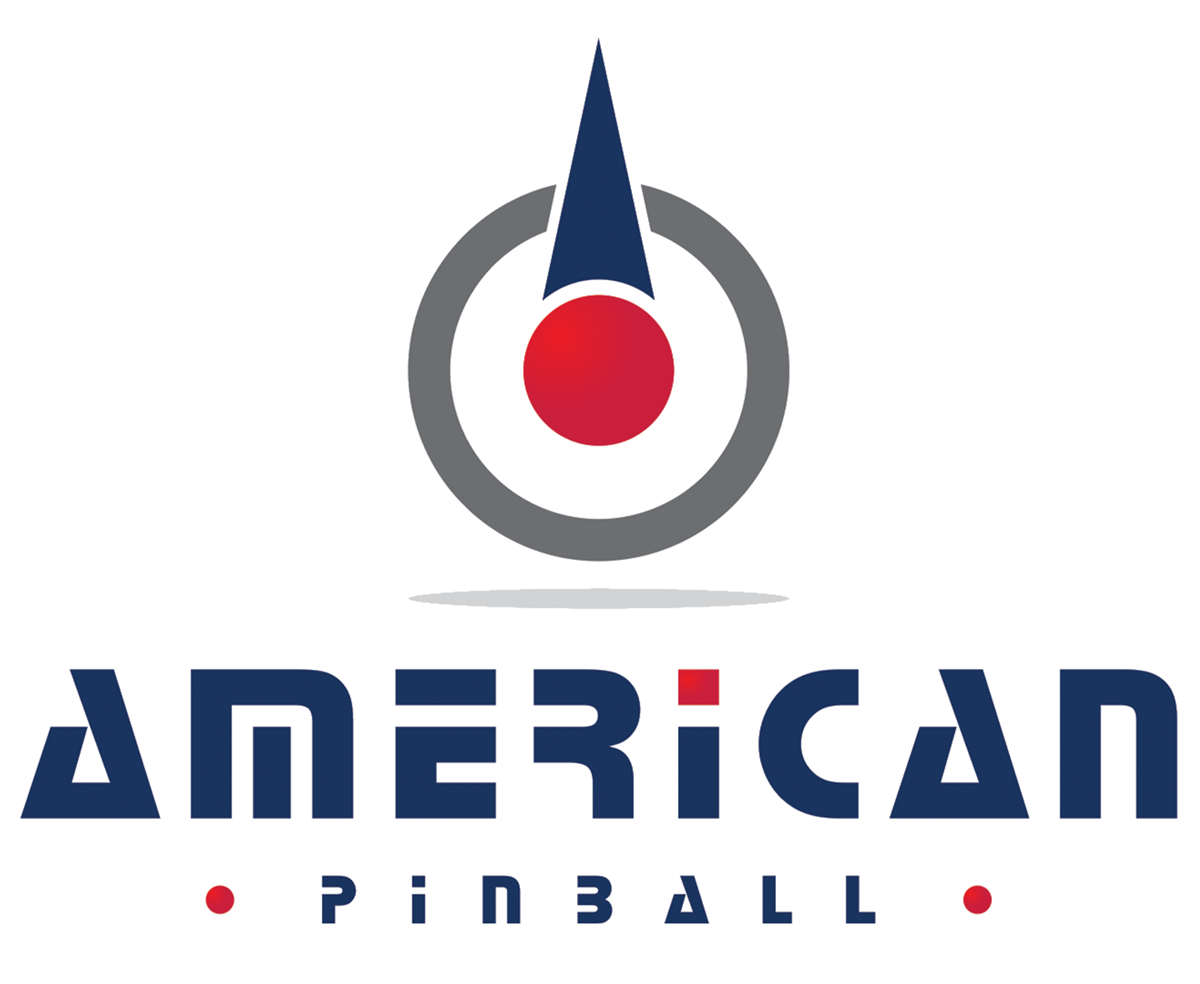 PRESENTS THE ALL NEW HOUDINI
SHIPPING LATE 2017
WE ARE PROUD TO ANNOUNCE THAT WE ARE NOW AN AUTHORIZED AMERICAN PINBALL DISTRIBUTOR SERVING ALL YOUR GAME SALE, WARRANTY & PARTS NEEDS!
NOW TAKING PRE ORDERS ON HOUDINI WITH ONLY A $250 REFUNDABLE DEPOSIT.
Games JUST started shipping Jan 2018
Click the image below for high-resolution playfield photographs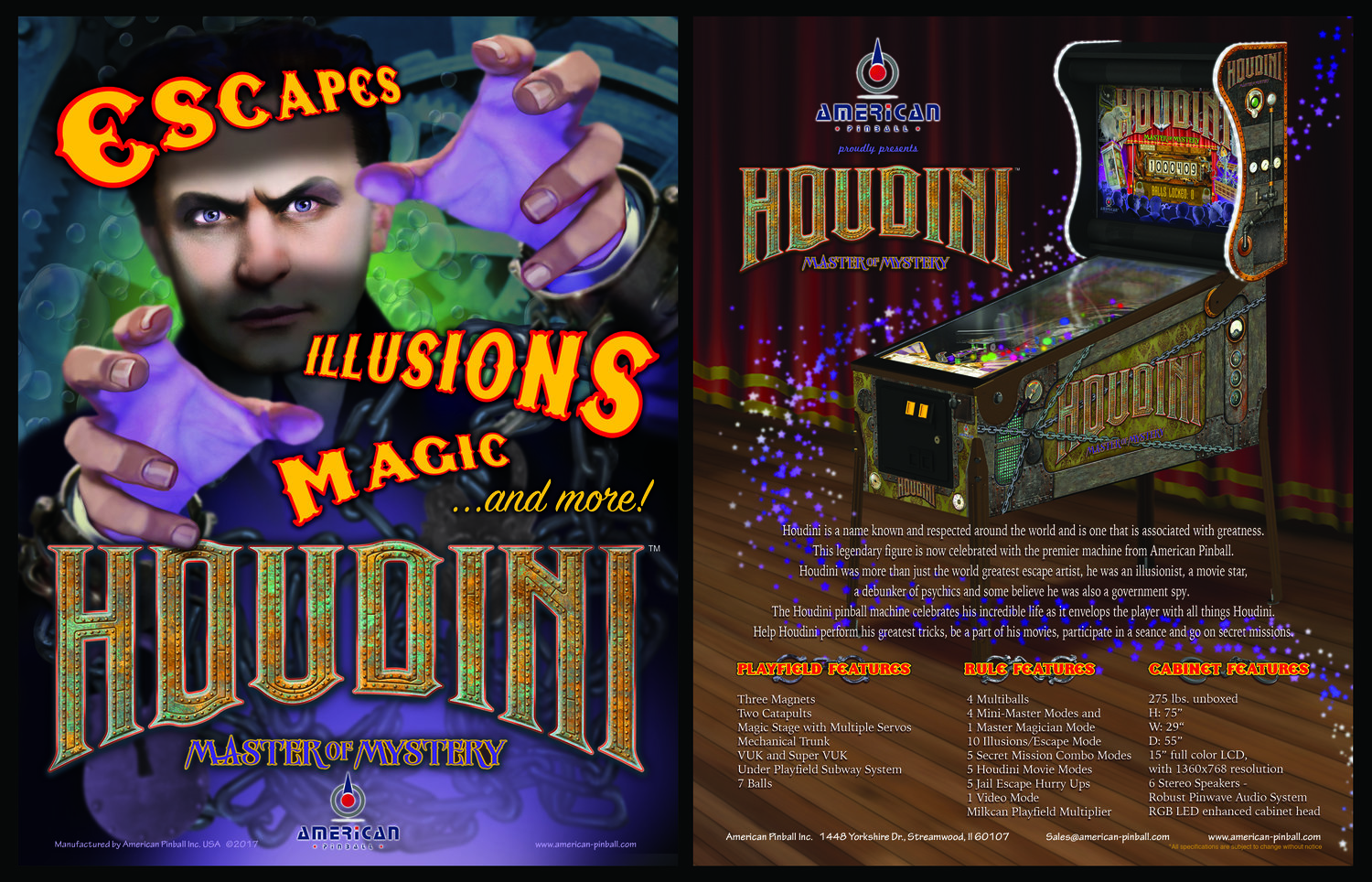 ---
"Houdini's escapes, illusions and handcuff challenges are world renowned even today, and formulate the basis of our inventive new pinball machine," said president of American-Pinball, Dhaval Vasani. "Our Houdini - Master Mystery pinball machine will bring him back to life with supremely detailed hand-drawn game artwork, inventive ball tricks, brilliantly illuminated play surfaces and spirit devices while featuring all the classic pinball features like: action jet bumpers, multi-level ball stages, sculpted magic toys, secret escapes and much more."
American-Pinball has also added a performance of new Houdini™ features to amaze players including: The Floating Ball, Water Torture Cell, Levitating Bumper, The Bullet Catch, Hindu Needle Trick, Spirit Box, Buried Alive Sarcophagus, Lock Chambers, Magic Beasts, The Séance, Milk Can Escape and Jennie the Vanishing Elephant!
Houdini - Master Mystery pinball transforms under the hood as well with the newest game motherboards created by award winning Gigabyte Technology to drive all of Houdini's pinball effects, full color graphics, sounds, gameplay and music.
​Features:
Playfield Features: three magnets, two catapults, magic stage with multiple servos, mechanical trunk, VUK and Super VUK, under playfield subway system, and 7 balls
Rule Features: 4 multiballs, 4 mini-master modes, 1 master magician mode, 10 illusions/escape modes, 5 secret mission combo modes, 5 Houdini movie modes, 5 jail escape hurry ups, 1 video mode, and milkcan playfield multiplier
15" full color LCD with 1360 x 768 resolution
6 stereo speakers – robust pinwave audio system
RGB LED enhanced cabinet head
$250 refundable deposit required. NOW SHIPPING!

$6995.00

Contact Us for more info on this game.

Full American Pinball Factory Warranty Included.

WE SHIP ANYWHERE! FILL OUT THIS FORM FOR A QUOTE!

Official Flyer
HD Anti Reflection Pinball Glass - NOW AVAILABLE!