Wizard of Oz Standard Edition
NOW IN STOCK AND SHIPPING!
VERSION 2.0! (One left in stock)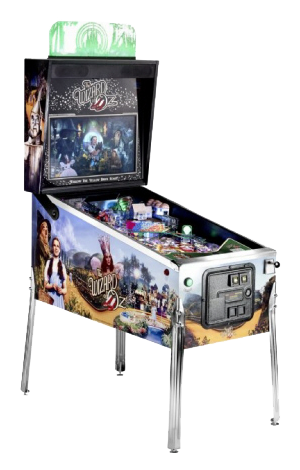 ---
Features of the Game:
-Hand drawn playfield, plastic set, decal set by artist Greg Freres. Four major mechanical toys; Dorothy's Spinning House, the Witch's Castle, Flying Monkey, Melting Witch.
-Five flippers, Two mini playfields, three Trumper-Bumpers, one Balloon Bumper, Five magnets, One Spinning target, Crystal Ball, Rollover targets, Winkie Guard drop target.
-Full color cabinet and backbox artwork created by artist Jerry VanderStelt. Art will be screened on the highest grade adhesive backed vinyl and printed with UV stabilized inks.
-Digital Stereo sound system which will boom the music and effects created by SoundMaster, Chris Granner. Front of game audio connection jack for headphone/ear bud. Component audio connection jack at rear of game.
-26″ LCD HD-Quality monitor which will display scores, animation, movie clips, attract mode, backglass artwork and more.
-RGB-LED Playfield Lighting
-Each game will have a numbered plaque affixed to the game apron to be seen under the playfield glass…
-Silver Color Body Armor
-Bally / Williams Parts
-Premium Clear Coated Playfield
-One Year Warranty
Dimensions:
Fully assembled (With legs on & Backbox up)
Height = 74.50"
Width = 28.75"
Depth = 55.50"
Weight - 350 pounds
(Invisaglass & shaker motor optional)
(Limited number available that are numbered 1-1000 then after those are sold there will be NO numbers on the standards)
Available Now!

MSRP $8,495.00 not including any special promos
Add on INVISIGLASS™ Only - $250
Add on Shaker Motor Only - $200
Combo INVISIGLASS™ & Shaker Motor - $425

Contact Us for more info on other promos we are currently offering on this game.

Full JJP Factory Warranty Included.

Local in Home Set Up And Delivery Is Available

WE SHIP ANYWHERE! FILL OUT THIS FORM FOR A QUOTE!

Wizard of Oz Flyer

Wizard of Oz 2pg Flyer