STAR WARS PRO EDITION (In Production)
IN PRODUCTION PROMO: $500 OFF MSRP, FREE CURBSIDE SHIPPING & SHAKER MOTOR INCLUDED!!!
FREE LOCAL IN HOME SET UP WITHIN A 35 MILE RADIUS!
(Backbox removal additional if required, Contact Us for more info)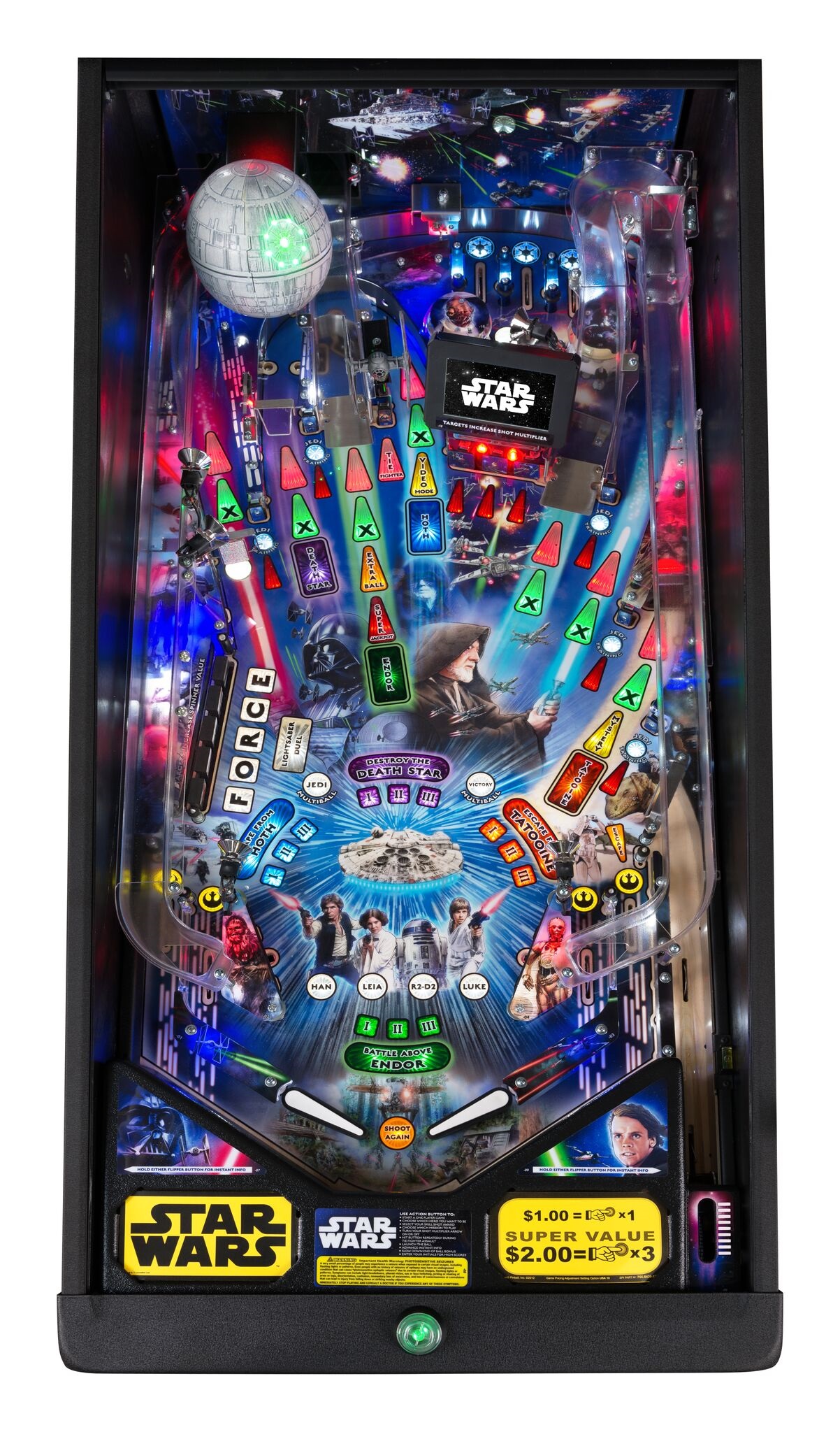 ---
Stern Pinball, Inc., the world's oldest and largest
producer of arcade-quality pinball machines, proudly announced today the availability of a new
line of pinball machines celebrating the Star Wars 40th Anniversary. Star Wars pinball machines
will be available in Pro, Premium and Limited Edition models. The game will immerse players in
the dynamic and challenging Star Wars pinball environment as they battle to restore justice to
the Galaxy.
Stern's Star Wars Pro, Premium and Limited Edition machines are packed with features that
provide an irresistible game experience. The game includes select speech and footage from the
original Star Wars trilogy; color-changing LED-lighted inserts; a sculpted LED-lit Millennium
Falcon; and a sculpted TIE Fighter. The Limited Edition and Premium models also feature two
LCD screens, an exploding Death Star interactive display, and a hyperspace ramp.
"We are excited to bring these pinball machines celebrating the Star Wars galaxy and
adventures to our fans," said Gary Stern, Chairman and CEO of Stern Pinball. "Our Star Wars
Pinball machines give fans a fun, new way to enjoy the nonstop action and new game sounds,
features and effects."
In addition to the immersive theme and exciting game experience, Stern Pinball's SPIKE-2
electronic platform enables high-definition graphics and innovative animations. The state-of-art
electronic system also powers a high-fidelity 3-channel audio system that is three times more
powerful than audio systems of previous generations. Star Wars Pinball entertains with an
amazing array of modern and classic features, making it suitable for all skill levels.

MSRP $6,199.00 SALE PRICE $5,699.00 LIMITED TIME pre-order special ($500 discount)

Optional Shaker Motor INCLUDED!!!

Free in home delivery and set-up within 35 miles! EXPIRES SOON!

Includes free shipping in the lower 48 United States

Contact Us for more info on other promos we are currently offering on this game. Mention Promo Code 800 Discount

Full Stern Factory Warranty Included.

Local in Home Set Up And Delivery Is Available

High res pictures of the game here

Official Stern Flyer

Star Wars Game Features Matrix
Stern HD Anti Reflection Pinball Glass - NOW AVAILABLE!